GREEN SCREEN FOR SHOOTING: QUESTIONS AND ANSWERS ABOUT CHROMAKEYS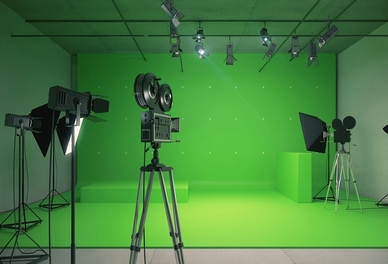 The issue of picture quality nowadays is of concern. Filming on a natural background is far from always appropriate, and setting up the scenery is an expensive and time-consuming task. The chromakey technology helps solve the problem – this is a technique that allows you to combine two or more frames or images in one masterpiece. Nevertheless, not all beginner video makers know how to work with this effect since it was recently used only on television and professional video projects. So, what is chromakey, how to use chromakey technology, and why is the green background used for this?
WHAT IS A CHROMAKEY?
In simple words, chromakey is a special technology for combining and editing several images to obtain the final result in the form of a finished picture or video. Such technology allows you to create almost any background and introduce computer special effects. Due to its effectiveness and relative cheapness, this technology is now used when shooting almost all films and series. In addition to the film/television industry, chromakey is actively used by various video bloggers to create high-quality content if they don't have a professional studio.
History of chromakey
Chromakey is the technology, without which it is impossible to imagine the current television. But as it was said previously, it even began to be used by many video bloggers to improve the quality of shooting. But let's find out the history of the concept.
It began in the late 1980s, and of course, in the USA. The American Stargate Studio has patented the Virtual Backlot program, which allows actors and directors to watch in real-time what will happen around them after the final post-production. This greatly facilitated the life of the creators of spectacular movie scenes. Initially, chromakey technology was used only to cover the background. However, the picture was imperfect. To solve the problem, "chromakey pavilions" began to be used, which sometimes could completely cover a thousand-meter shooting hall in size.
HOW TO START WORKING WITH CHROMAKEY
One way or another, modern video editing programs have transferred the "magic" that was once possible in the film industry to the world of an ordinary user. This means that now you can implement almost any idea that involves the use of chromakey technology. Hollywood budgets will not be needed. So, how to use chromakey?
Background preparation
Green and blue backgrounds are most often used. Why take off on a green background (and blue one)? This is due to human skin – it doesn't have such shades. They make it easy to separate the person or a thing and place them in any other image. The main condition is the absence of similar colors in clothes or makeup; otherwise, the areas will be as if "shine through."
Why is chroma green? It is not always green. It can be of different colors. When creating films, they most often use a green background for the video. Red or brown backgrounds can give a glow to the model or merge with individual areas of the skin. But there are situations when the image of an actor contains both colors. Then black, white, or another contrasting background is used.
For a chromakey background, a dense fabric that absorbs light fluxes is used. It is hung in such a way as to exclude any fluctuations or movements. The same fabric is sheathed with objects that turn into swords, exotic animals, and decorative elements during post-production. To create unrealistic characters, they use a costume made of rip fabric that turns into the body of a monster or a robot.
Distance selection
The object should be far enough from the background (from 1.5 meters) so that no shadows form behind it. When shooting close-ups, the object can be positioned closer to the chromakey. When shooting an object in its full height, not only it should be away from the screen, but also the operator should be away from it to avoid distortion of perspective.
One of the key components of a good result is a sufficient studio area. The distance allows you to not only get rid of the shadows but also prevent the occurrence of imbalances, especially when shooting with a wide-angle lens in a limited room. Sometimes with a lack of working space, shooting is carried out on the street. In such a situation, it is necessary to take into account additional external factors: wind, sun, etc.
Also, during the shooting, it is necessary to ensure that the object doesn't leave the green canvas for filming and always remains within the frame. Otherwise, it will be very difficult to fix the error even with excellent Photoshop skills. To avoid this, you need to write a detailed script for the film and have a clear idea of how everyone and everything will move during a particular scene.
Lighting setup
How to set the light when shooting with a chromakey? The most important thing to remember is that any part of the background should be lit evenly. You can highlight the background with only two large softboxes, placing each of them on different sides (left and right). So, to adjust the uniform illumination, you may need lighting from the back, front, and top. You will need many devices, depending on the light sources themselves, the location, and tasks. The main thing is that there should be enough light. It should evenly cover the entire background in the frame. It shouldn't create shadows.
The most difficult thing is to shoot on the street. Streetlight is beyond human control. The sun may suddenly come out and create dangerous shadows. So, it's better to choose a room for shooting.
When using backgrounds for chromakey in a large, professional studio, equipped with a sufficient number of lighting fixtures, such problems will not arise. It is preferable to use a larger number of light sources (for example, five rather than three) so that you can light the background separately and allow the object to move more freely in the studio space. When shooting outdoors, natural light is usually enough, but there is one tricky point to consider: the movement of the sun. As it moves, the nature of the lighting will change. Therefore, you may need a portable light or reflectors to adjust the light in the final picture.
Technics
If the previous paragraphs only helped to create optimal conditions, then the camera is an immediate shooting tool. The functions of modern devices are very diverse. For example, when working with DV-systems, you have to be extremely accurate to get the right key. HD cameras are easier to use (a pixel is smaller), but the type of compression doesn't always benefit the green background. When shooting a video with chromakey, the process is somewhat simpler since almost all modern cameras give sufficient quality. It is also necessary to set at least manual settings of the camera: focus, aperture, and white balance. If you use the automatic settings, you run the risk of spoiling the video.
If you choose the right chromakey color and good techniques, then you will just have to cut out the background or cover it with another image. And the video scene is ready. It may be difficult for you to understand what actions are important when shooting with chromakey, what you need to pay attention to, and how to work in such conditions. But in the process of post-production, all the defects caused by incorrectly exposed light, camera parameters, distances, and priorities will "come out". So, you just have to practice.
VIDEO EDITING WITH CHROMAKEY
The post-production software that you use will make a huge difference to the scene you will be making. Quality software can make a good video even from poor content.
Adobe After Effects (Keylight, Garbage matting)
How to make a chromakey edit? You can do it with the help of the software from the famous Adobe Company for editing videos, creating motion graphics, animations, and various special effects. The program is widely used in the film (and television) industry, as well as in the creation of three-dimensional typography and graphic design. AE is part of the Adobe system, which simplifies the export and import of data from other programs of this corporation.
Sony Vegas Pro
This is a video editing kit designed for professionals in need of high-quality HD video production. An important fact is that Sony (a recognized leader in the world of digital video) is the developer of Vegas Pro. This is a professional program, but everyone can learn how to use a video editor as it doesn't take a lot of time.
Movavi
This is a convenient video editing utility with a lot of interesting opportunities. This advanced and multi-functional video editor helps you easily create stunning high-quality videos with the addition of your favorite music, graphic images, and other attributes. Its understandable interface is easy to learn in a matter of minutes.
PROS AND CONS OF WORKING WITH CHROMAKEY
Let's summarize why it is worth using this technology in your videos:
Cost
It is not expensive and quite effective. The use of backgrounds reduces the expense item "On the scenery." When creating large-scale shootings, unusual or unrealistic landscapes, materials and the work of decorators will kill all other expenses. Fabric and installation frames are much cheaper, and the pavilions are more designed to install cameras and equipment than wildlife or scenery.
Lack of volumetric image
A significant disadvantage of the technology is the lack of the ability to create three-dimensional images. It is not possible to fill both the background and foreground at the same time. The realism of the scenery allows you to use some individual elements in the script, for example, take a book from a shelf or put a mug on the table. Chromakey is a static background image, it creates the necessary mood, completes, and emphasizes the author's idea but doesn't actively participate in the plot.
Compactness
It doesn't make sense to buy decorations. It is unlikely that they can be reused. Therefore, bulky decorations are simply thrown away, disassembled or destroyed. The fabric takes up little space when folded, the prefabricated frame is also quite compact. You just need a green movie background. So, isn't it an advantage?
Time spent
To make and install the scenery, it will take more than one week of painstaking work of many workers and decorators. If the deadlines are running out or you need to remove a lot of things per day, then you can't do without chromakey. The biggest share of the work on the material will be done after filming when artists will create the background and add actors and their characters there.
Manufacture
To shoot one scene, you may need a huge amount of gadgets, accessories, and scenery. And shooting in remote places of the world, on a ship or in the ocean, on an airplane, or a moving train is not always possible. For this, a green or blue screen is used, and everything necessary will be drawn on it.
The use of chromakey in shooting allows you to achieve amazing spectacular effects with minimal time and money. With the hands of one person, you can send an actor anywhere in the world, to unreal scenery, create almost any image based on one good photo taken on a green background. Chromakey is an amazing multifunctional tool in the hands of directors that allows creating masterpieces of cinema, television programs, video clips, and other colorful pictures. The possibilities of technology are endless. So for many years to come, actors will fly, fight with giants, talk to robots and aliens in orbit of the earth, walk through fabulous forests, and delight viewers.