HOW TO GET CLIENTS FOR YOUR VIDEO PRODUCTION COMPANY: TIPS AND GUIDELINES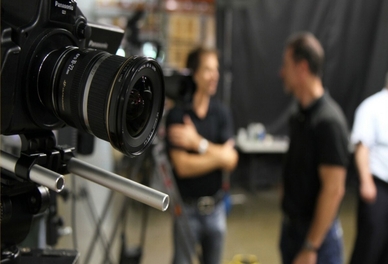 In the world, there are many different types of business in which everything can be calculated in advance. Where the rules of the game do not change, customers behave predictably, and investments always bring the expected return. But there is a business in which you know almost nothing beforehand, but that still brings a lot of inspiration and bright moments. A vivid example of such a business is video production. Here, the client is never sure what exactly they want, and any project can stretch for an indefinite period. How to get clients for your video production company? What are customer communication algorithms? You can lose a lot of time figuring out how to get clients for video production if you have just started your business or you are only going to build one.
VITAL THINGS TO DO BEFORE GETTING CLIENTS FOR VIDEO PRODUCTION
Creating your own video production company can be a challenge. Finding clients for your business might be even harder if you skip some important things. You should become a guru of self-promotion to reach the desired results. We are going to provide you with certain useful tips that will become a background for the prosperity of the company in the future and help you answer the question, "Where can I find clients for video production?" So, where should you start?
1. Conduct market research
It may sound completely uninteresting and boring, but you will not be able to productively move forward without this "trifle." It is a key element of your future success. You should study your market, know your main rivals and their weak and strong sides. This knowledge will allow you to build a fruitful video production marketing strategy and stay one step ahead. Besides, you will be able to stand yourself out from the crowd and get high paying video clients. Bear in mind that you should not undercut the competition because potential clients can start perceiving your company as something second-class, and it will be more difficult to reach the top ratings.
2. Invest in developing and maintaining a website
First, you should understand that numerous moments will depend on the site, for example, whether the users will become your clients. You should pay special attention to it before moving on to the very methods of attracting clients. Just imagine that you have become interested in a big discount on car repairs with good insurance, but, having arrived at the address, you see that it is a no-name garage with a drunken mechanic. Obviously, you will turn around and leave. The same will happen with a website since it demonstrates your value. Your website should reflect your philosophy and main advantages.
3. Create business profiles on social networks
Modern users like openness, honesty, and communication. Now it has become normal and commonplace that companies have business profiles on social networks, tell the news, show new products, are interested in the opinions of users, and actively respond to complaints and gratitude. You can talk about video production, about its specifics, and share the results of cooperation and orders. It is interesting content that will win users and potential clients over. Besides, a business profile will become your calling card and help increase your audience.
4. Order original video production business cards
Even though almost all activity takes place on the Internet, you will still have to meet with potential clients in person as well as arrange different meetings with workers, attend numerous events and stuff. So, you will need business cards to introduce your company and make them remember you. Some people believe that it's not a required thing nowadays, but they underestimate its usefulness.
HOW TO GET VIDEO CLIENTS FROM SCRATCH
Big companies have significant advantages over brand-new ones: everyone knows them already, and they have a proven reputation. Clients trust such companies more, especially if there is a large budget for the project. However, the issue of trust can always be solved with a simple check with the help of independent specialists, and new studios may have much more interesting portfolios and flexible price policy.
Networking
The only possible way to get acquainted with someone new is to meet them. Creating your network is of crucial importance when you want to find clients for video production. It is important to leave your comfort zone and start arranging face-to-face meetings. You never know who will help you get some clients. You can start by meeting people from your industry who are not your rivals, for example, advertising or marketing companies or specialists. Perceive it as an interesting game the goal of which is to set up lunch meetings and find new clients.
Make an announcement on your social media for friends to share
If you are an active network user who has many subscribers on Instagram, Facebook, or Twitter, you can use your big audience to your benefit. So, you can ask your friends and followers to share your announcement. In fact, any public social media can help the world get to know you better or at least find out about your existence. Thus, before making an announcement, you should create a decent uniform profile and upgrade it constantly to attract potential clients.
Try cold sales
This method is not for everyone since it seems quite intimidating, but it can also bring its results when your call or message will reach the right person who is interested in video production. Messages via LinkedIn or Facebook are considered the softest way since a user can immediately reach your profile and understand whether it meets their needs or not. If you try phone calls, then make sure you sound confident.
HOW TO FIND CLIENTS FOR VIDEO PRODUCTION: MARKETING STRATEGY
While you try to find clients for your video production business, your potential clients are trying to find you and verify the quality of your work. Usually, such people try to collect information from several sources. But first, they will turn to acquaintances and find out which studio has done the work they like. Word of mouth is the most common way of searching. Besides, they will look at the studio's website, portfolio, and their clients. If you have worked with at least one famous blogger or company, it will be clear that you can cope with their requirements and meet deadlines. Personal communication with you and the references of which studios and whose work you like will help the client form a final understanding of whether your ideas about the desired result coincide. So, if you do not know how to get video clients, but you definitely want to get clients as a filmmaker, follow the next tips.
Make up a portfolio
Understandably, you cannot show how cool you are through sign language. When people are looking for a photographer or filmmaker, they want to see the results of their previous work. Most of your potential clients are "picture people," and they would like to see your digital portfolio to decide whether it's worth hiring you or not. It is not necessary to show the full version of each work you have done, but a set of clips on your website and social media will help attract new clients.
Use your videographer skills to shoot an irresistible promo video
If you want and can stand out from the crowd, you should not lose an opportunity to show everyone what a wonderful professional you are. Thus, you can use your skills, knowledge, and imagination to create a catchy irresistible promo video that will attract new clients. Everyone wants to get a professional who loves their work and not just tries to earn their living. You can share this promo on all the possible social networks to increase the audience of your admirers. Besides, such a promo will easily become your calling card.
Launch an advertising campaign online
Instagram, YouTube, Telegram, and FB are ideal ways to tell about yourself. You can use a variety of mechanics: from the purchase of classic embedded advertising to native integration in thematic groups. Another option is to attract bloggers. People listen to their opinions, watch, and trust. In general, social media is one of the most useful tools for advertising your services. The main thing is to maintain your content on a decent level and constantly update information in profiles.
Use testimonials
Practice shows that people much more trust services that have good testimonials. As we have said, many people try to gather all the possible information about the company to decide whether it is worth it using their services, and testimonials play a crucial role in it. So, if you have clients who were satisfied with your job, you can ask them to write feedbacks that you can place on your website and social networks.
Launch a sales department
To succeed, everyone should do work they are good at. Thus, if you want to get clients and ad your services, you should better hire experienced specialists who will help you meet this challenge. If you have been working on the market for some time and have enough financial resources, you can launch a sales department. While promotion specialists will help you understand what your strong sides in advertising are. Sales managers will help get new clients and sell your services to the maximal number of people.
Make quality of your work speak for itself
Try to make any project at the highest possible level, regardless of limitations. You will always be within certain limits, but you should always try to do your best. Listen to the client and consider their wishes. Over time, you will understand clients' expectations from the level of service and quality of work, so try to provide them. After all, video production is a constant search for the best solutions. If you provide your clients with quality work, then they will see this and want to continue your cooperation. It is when word of mouth may help you achieve the desired results. Video production leads to certain improvements in any other service, so many people need it.
REMEMBER THAT VIDEO PRODUCTION IS NOT CHARITY
Keep a balance between the client's budget, ambitions, and creativity. Of course, money is not the only motivation, but creating large-scale projects on a small budget is not worth it even for the sake of self-realization. Keep a balance between your own goals, customer desires, and business strategy. Defend your decisions if you consider them justified. You should know your value: study the indicators of income and expenses, talk with colleagues, and don't drop your price extremely low. Everyone knows that an interesting, high-quality project cannot be done with a penny budget.