HOW TO GET INTO VIDEOGRAPHY: GUIDE FOR NEWBIES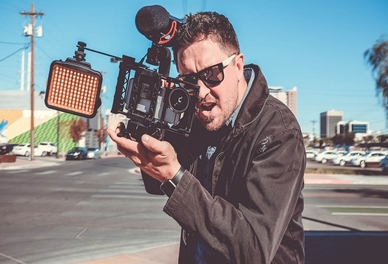 Surely, everyone who has ever held a video camera in hands understands the pleasure of being a videographer. After all, you not only record what is happening on a smart device, but you create a video story, a real masterpiece, which may become popular and watchable. But not everyone who has learned to press the start button can consider themselves a professional videographer. This is not such a quick and easy process as it might seem at first glance. So, how to be a videographer?
BASIC TIPS FOR A BEGINNER IN VIDEOGRAPHY
How to get started in videography? The work of the videographer is to capture a variety of phenomena, events, or objects of the surrounding world. Regardless of the field in which this person works, the tasks of the videographer are to develop a shooting plan, install equipment, compositional construction of each frame, and their subsequent processing. So, what does it take to become a good specialist?
Start from the theory you can read or watch online
To achieve success in the initial stages, you will need to work a lot, learn to draw inspiration from almost everywhere, constantly learn new practical skills, and watch a videography tutorial for beginners. There are many sample practical guides that most specialists follow. Although they will be useful in the initial stages, anyway, try to create your style of video. And many of us know that the theory is most quickly mastered precisely along with practice.
Get a good camera and go practice
Of course, you can shoot a video on your smartphone. However, if you plan to become a specialist and want to make a good impression on the audience, it makes sense to buy more advanced video equipment. If you want to feel like a professional, there are modern digital video cameras. They can shoot high-definition video in resolutions up to 4K. Then any videographer who has become acquainted with theoretical knowledge and bought good equipment can go to practice videography.
Watch different types of videos and films
If you are just starting to learn how to shoot video and have no idea what to do with the camera, then try to copy the styles of the operators that you like. Getting to know new authors, techniques, and projects will help you improve your creative style. And above all, it will be a wonderful source of inspiration. Study works of other authors and copy them one-to-one. Over time, you will have your own style, but so far it is not, studying the work of others is a great way to become a videographer.
Attend workshops and communicate with others in this field
You can join workshops and meet like-minded people who can help you learn something new and practice your skills. If possible, take additional classes, which will also tell you about camera settings, methods for creating movies, video editing methods, lighting settings, and much more. It is really quite important if you want to be a videographer.
MAIN FEATURES AND RESPONSIBILITIES OF A VIDEOGRAPHER
Do you want to become a videographer professionally? At first glance, the process of shooting may seem simple. But, in fact, the main task of the specialist is to shoot a consistent and logically related story, as well as display what is happening so that it looks as natural as possible. Poor-quality amateur photography resembles chaotic shots that are difficult to put together. The professional work of the operator is a video film with a beautiful bright picture, a clear scenario, and the natural behavior of all participants in the process. The task of the operator is to make the process as simple and accessible as possible, which will not allow participants to get lost in front of the camera lens. In addition to specific qualities, a professional videographer must be able to "think with eyes," feel reality and improvise, anticipating the next moment. The true skill of the videographer consists of the following knowledge and skills:
drawing up technical specifications with a client;
preparation for video shooting;
its carrying out;
preparation of the finished project;
maintaining equipment performance;
knowledge and possession of video equipment;
the ability to organize and conduct various types of filming;
resourcefulness, observation;
good eye and color perception;
speed of reaction and decision-making.
GOOD IDEAS OF WORK FOR A BEGINNER VIDEOGRAPHER
Currently, the profession of a videographer is considered to be very popular. Many firms and enterprises need qualified specialists. So, what can be shot with a camera?
Wedding videography
If you have a video camera, sooner or later, relatives, friends, or friends of friends will turn to you with a request to capture any significant day of their life by making a film about the celebration of an anniversary or wedding. But the wedding video should be thought out to the smallest detail. It's important to know where you will start shooting, and what the end of the video will be. Wedding video shooting usually takes place in several stages: love-story, preparations before a wedding, official part, and party. Of course, each stage needs to be coordinated with the newlyweds because some couples refuse banal plot locations.
Events videography
How to get started in videography? Well, you know that the best way to capture an event is to make a video. Sometimes amateur shooting on the phone may be enough, but for serious events, you will need professional video shooting: with good cameras, cameramen, and high-quality editing. This is a type of shooting in which the action will not be repeated, there will be no attempts to retake, therefore, everything has to be shot quickly and efficiently.
Travel videography
Such videos are similar to personal blog entries, based on the traveler's personal experience and made in a natural relaxed manner. For the audience, such videos are attractive in that they are built on trust, show things from the inside, and often provide useful tips for travelers. They don't have a rigid format and structure, therefore, starting with such a video, you will be able to open up as a creative person, which means you get maximum pleasure from the process.
Indie movies, students' movies
Every aspiring person, getting started in cinematography, dreams of a successful film career. To get started, try making a short but unusual movie. At first glance, the task may seem overwhelming but actually, it is not so difficult to create an interesting movie. Thanks to the right preparation, equipment, and skills, working on a movie will require only nice ideas and the right approach to filming.
Business videos for small companies
More and more companies resort to the same strategies and tactics of social media marketing, content marketing, and digital marketing, and the smartest and most innovative brands begin to look for new ways to increase brand awareness, traffic, and conversions. A two-minute video shot for business has tremendous potential. The video sequence can be cut into 15-second commercials. Success can increase many times due to one video.
ADVANCED TIPS ON HOW TO GET INTO VIDEOGRAPHY
How to get into videography? This is one of the most common questions among those people who intend to master the skill. The creative personality is often characterized by periodic changes, as well as the expansion of their own interests. In fact, a fan of a high-quality video will want to learn the profession of a videographer and such aspiration will be quite natural and easily achievable.
Get a degree (optional)
How to learn videography? If you dig deeper into the question, you can see that most professional videographers don't have a specialized education. They have learned the art of video shooting on their own, which means that you will be able to do it too. However, when you apply for a videographer, companies usually want to see your diploma related to video making. So, it is better to get it.
Master your skills at any good occasion
Knowledge is a power that is hard to resist. You can develop in one direction or develop new fields. Everyone has the opportunity to choose. However, the fact that you need to constantly replenish the "piggy bank of knowledge and experience" is undeniable. If people are content with little or with what they have and don't strive for change, then it is worth thinking about whether they are really professionals. The stability is good. However, new knowledge can open up such perspectives that previously seemed beyond reality.
Work out your own style and vision
What is beautiful for one can be strange for the other. Work on the style that you like. There are those who appreciate it. You will have your fans. Browse the Internet and social networks, find videographers whose style you like, and study their works. Join video communities and explore various sources. You can find a lot of useful information on free blogs. Some videographers advertise their training schools by posting various free mini-lessons.
Get an internship on a production studio
Internships were invented so that graduates had something to offer the employer after graduation. This is a good opportunity to get into the environment of professional people to learn from their experience. Yes, the tasks will be not the most difficult (but they are important and necessary), especially when there is no practical knowledge behind them.
Renew your portfolio
A portfolio is a passport of a person of a creative profession, a business card, without which you can't get into the world of serious clients. Therefore, being a videographer, it is important to be able to make it correctly. Don't forget to regularly update your portfolio so that there are no videos of a decade ago. This will not add credibility in the eyes of clients.
Take side projects
The novice videographer, who has absolutely no experience in shooting, may well devote several weeks or even months to volunteering. Participate in various projects on a voluntary basis, support interesting ideas of your friends, attend master classes/seminars, and try to make useful contacts with future colleagues. Such activity will help you quickly gain invaluable work experience.
Get a permanent job on a studio or become a freelancer
To get a job, you need experience, and to get experience, you need a job. This is a paradox. Fortunately, the video world has found a solution to this problem. You just need to find employers who need videographers with little experience. Surf the Internet for jobs, make a few calls to film companies and send your CV and portfolio to well-known companies in your city. A photographer can also work as a freelancer.
We hope that we've answered the question of how to become a videographer. This is an amazing job that will add many interesting points to your life. Thanks to the Internet, the demand for professional videographers is only increasing. More and more people are independently trying to create video content and make money on it.