VIDEO PRODUCTION COSTS: WHAT DOES IT DEPEND ON AND HOW TO CALCULATE IT?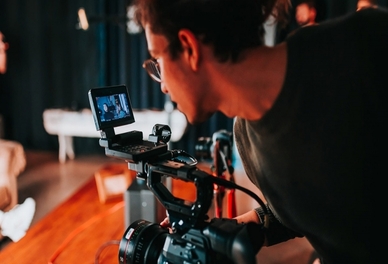 Everyone seems to be interested in the creative aspects of video production or how to choose a good video production studio, but the practical aspects of video production, such as the costs and potential waste that are associated with the process often seem to be overlooked. How much does video production cost? Well, this article deals with the issue of video production costs breakdown.
WHY VIDEO PRODUCTION PRICES MAY BE DIFFERENT FOR VARIOUS CUSTOMERS?
Let's now figure out the reasons why the cost of video production can differ for various customers depending on their wishes.
Time
The more time is spent on pre-production, planning, scriptwriting, searching for locations, shooting, the better result you will get from post-production. Increasing the number of people for production also drives the overall cost of the project up. If you have a lot of people working on a project – you will do it faster, and the result will, most likely, be better, but all of these things affect promotional video production cost.
Talent
The more talented the people who work on the project are, the better the video will turn out to be at the end. In the production of online video, like everything else in life, talent and experience should cost good money. This is especially important in the case of music video production cost, as creativity is above everything else in regards to music videos.
Instruments
You can make your own video by shooting it on your cell phone. The cost of basic video production with your gadget will be very affordable. Alternatively, you can use professional equipment, lighting, and expensive post-production software and use various professional special effects and animations. Many professionals operate in this field and know their craft, but their work isn't free.
KEY ELEMENTS OF A VIDEO PRODUCTION BUDGET
Here are the main things that go into calculating the estimated cost of video production for any video.
Fees
Any video production budget always includes the fees of everyone involved in the project. No one works for free. Moreover, it is necessary to pay not only to the actors, the director, the cameraman but also to those people that the customer may not even be aware of (the driver, assistants, a clapperboard, movers, directors, gaffers, supervisors, etc.). On average, about 50 people participate in the process of shooting a commercial.
Shooting days
The number of shooting days is directly proportional to the cost of a video. It is always advantageous to wrap up the process in the shortest time possible but, at the same time, not to rush it. It's better to shoot everything right than to have to reshoot the bits that turned out to be bad because you rushed the process. It's simply more expensive. After all, the cost of making a video for TV is directly related to its quality. As a rule, a 15-second video is shot in a matter of 8 to 12 hours.
Where to shoot?
The need for scenery and the number of film sets affect video production prices. We build the decoration – we pay. We rent film sets – we pay.
Travel
These are various travel expenses for the entire crew. If a video is shot in different cities or countries, the cost of moving (transport, accommodation, per diem, etc.) is also included in the cost of making the video for the company.
What to shoot?
The shooting format affects the cost. The cost of shooting a movie on a digital or 35 mm film will differ. The film has a price and still requires development and distillation after shooting. Digital video processing costs less, but using sophisticated equipment, such as RED or Alexa movie cameras with stabilizing equipment or sophisticated camera equipment, can be quite expensive. The price of a 35 mm film roll consists of the cost of the film itself (at least $3,000 even for a short movie) and all other costs as for shooting on digital cameras. The use of simpler cameras and filming equipment will reduce the price of a video but always affect its overall quality.
Rights
The rights to use the image of the actors and the right to use the video, including their duration, territory of use, and means of distribution (federal TV, regional, Internet, etc.) are always included in the price of a video.
Processing
Sometimes a shooting day can last much longer than usual, and these processes are included in the price. For some participants in the filming process, a shooting day or a shift, as it is commonly called, can last both 20 and 30 hours. Agree, this is a little more than a normal working day. Each hour of processing of each specialist is planned in the preparation of estimates and is included in the overall production budget for a video.
Post-production
Sophisticated 3D computer graphics and 3D animation add to the value of a video.
HOW TO AVOID VIDEO PRODUCTION COSTS WASTE?
Select the appropriate budget for the video
Before you even spend a dime on anything, you have to define your goals, you have to know what you want to do. A rough outline of the action and message of a video won't be enough to start the production process, you have to know exactly what you want. If it's an ad, you have to define the goal of this ad: do you want to promote a product, promote your brand, attract potential new customers or new employees? Maybe you have something to share with your customers. The cost of video production per minute and the quality of your video all depend on how thoughtful you will be during this stage of video production.
How to get what you pay for
First, you need to know what you want to get as a result. One of the biggest reasons why a project is failing and you are not getting what you expected is because the client (that is, you) cannot decide what they want and continue to move in the intended direction. This all makes the production process cost more, complicates the production of promotional videos, and simply destroys the quality.
Then, carefully select a production studio
Look at their past experiences to make sure they can do what you need. Ask to show you those projects that were similar in the budget to yours.
You have to find out whether or not they know what they are doing, and they understand your wishes. It's not about just video production, they have to understand the marketing aspects of video production. If a video production studio is good at shooting but doesn't know the context of the market, what is fitting and what isn't – your video will, most likely, fail.
Be open to cooperation
In conclusion, always provide the resources that the production studio needs for video shooting. This may include access to people, locations, images, photos, and videos to create a concept, script, storyboard, and outline. Most of the production studios want to create a good and high-quality product. So help them, and you will get incredible benefits from this.